Cable over cross system Truk Trak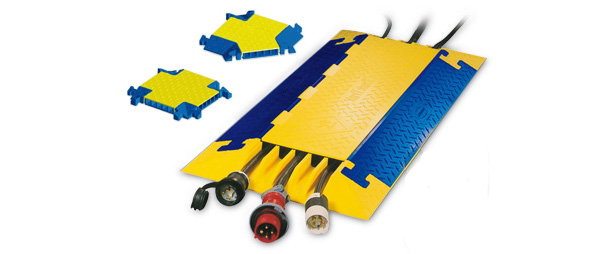 The modular cable protection system from Hubbell called TRUK TRAK is designed for industrial applications. Truk trak is a modular cable protection system to protect valuable cables and cords from damage. It provides a safe means for vehicle and pedestrian crossover traffic.
Truk trak is made of a high density all-weather polyurethane.
Three sizes are available to protect electrical cables and cords up to 82,6 mm
End modules and right and left are available .
Features
Polyurethane construction.
Modular Interlocking design.
Multiple Channels and sizes.
Diamond-plate surface.
Blue and Grey cover and caps.
Benefits
Non conductive,heavy load capacity and can be used.
Indoors or outdoors.
Easy installation, breakdown, storage and transport
Accommodates different cable and cord diameters
Reduces slipping and skidding
High visibility
Back